The starters for the 86th All-Star Game presented by T-Mobile were announced on Sunday night, and the defending AL champions (Kansas City Royals) are still getting mad love. Since they shocked the baseball world and almost won the World Series last year, this band of basebrawlers have been tearing down their historic baseball town. In the 80s KC was the shiznit and won a World Series over the St. Louis Cardinals in 1985. By the 90s, the team had become a laughing stock and that stock didn't rise until recently. There was a time when finding a Kansas City Royals player in an All-Star game starting lineup was like trying to find pork in a mosque.
These days, the spirit of baseball has returned to the home of The Negro Leagues Museum. And Royals blue is in season as they are leading the AL Central with a record of 49-33, proving that last season's come up wasn't a fluke. As a reward for their continued pursuit of excellence, KC is sending a franchise record four players to the All-Star game at Great American Ball Park in Cincinnati on July 14th. The four Royals selected is a club record, surpassing the 1979 squad that had three players (Frank White, Darrell Porter and George Brett) elected by the fans.
All of the starting position players are selected by the fans while the rest of the rosters are voted on by players and selected by managers Bruce Bochy (Giants) and Ned Yost (Royals).
This year's All-Star roster consists of 33 players for each team. The final spot is up for grabs via the Final Vote fan voting and the candidates are formidable. The All-Star reserves, pitchers and Final Vote candidates were announced Monday on the Esurance All-Star Selection Show on ESPN. Immediately following the show, fans can return to MLB.com to begin voting to select the final player for each League's 34-man roster via the 2015 Esurance All-Star Game Final Vote. Fans can cast their votes from a list of five players from each league until 4 p.m. on Friday, July 10.
The four Kansas City go-hards who will shine in this year's Midsummer Classic are catcher Salvador Perez, shortstop Alcides Escobar, and outfielders Lorenzo Cain and Alex Gordon, making them the first Royals to be voted in by the fans since Jermaine Dye in 2000. Early in the voting process the Royals had eight positions on lock, but after some fan outrage, that number was eventually chopped in half. It's the second year in a row for Perez and Gordon and Cain's first acknowledgement of his all-around skills; the soul, speed, wicked bat and defensive disdain he shows for opposing batters. Gordon, a four-time Gold Glover won't be making the trip to Cincinnati. He had to be carted off the field in the fourth inning of a 9-7 victory over Tampa Bay on Wednesday. He was diagnosed with a severe groin strain, one that Yost fears could sideline him for months. He's been replaced with NY Yankees speedy outfielder Brett Garner, who is having a career year.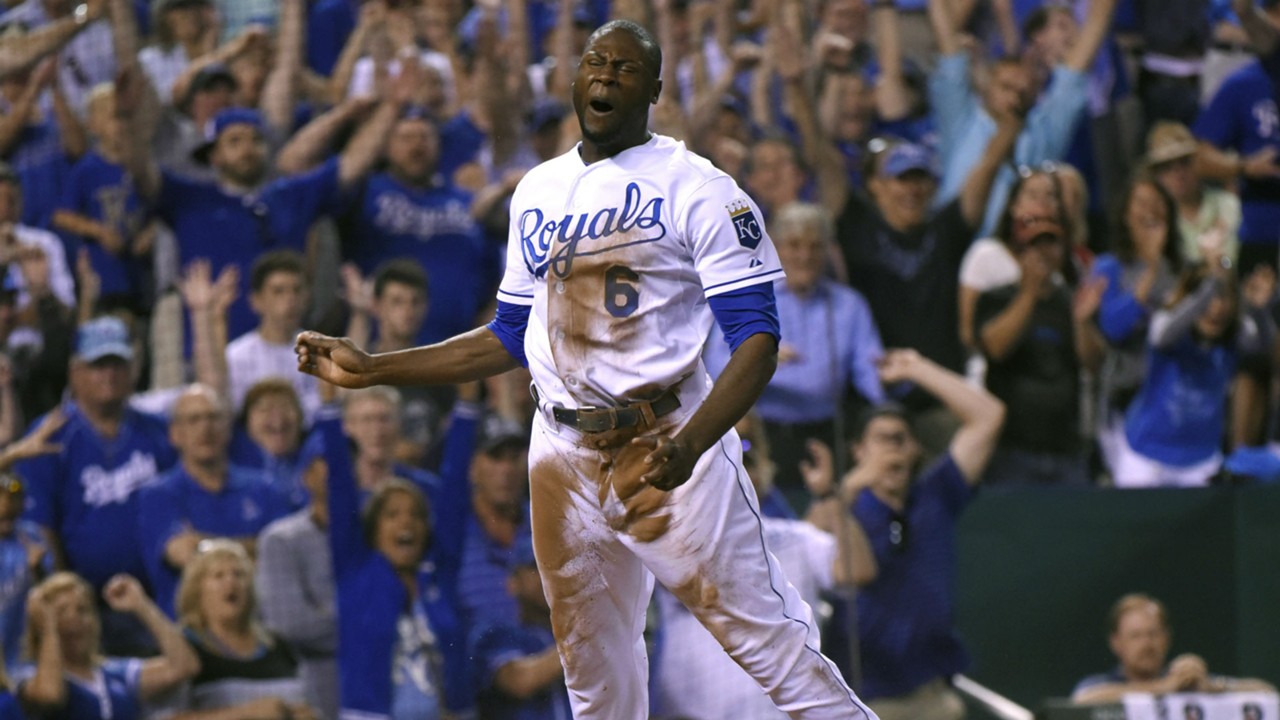 Fortunately for Yost, the Royals are a deep team and Gordon's replacement Jarrod Dyson entered the game and hit a two-run homer. Cain also hit a two-run shot and Escobar had four hits as KC thrashed All-Star ace Chris Archer before holding on for the victory.
Back in '79 Frank White and Hall of Famer George Brett were huge stars. I don't know if these band of Royals ballers command the same name recognition, but it's obvious that fans truly respect a team full of solid, hard-nosed and exciting players. They don't have any "superstars." They don't have the 30-homer guy in the middle of the lineup, but they are solid in all facets of the game, stacked with arms, have sick chemistry and they have that blue collar, middle America appeal.
"It brings attention [to the team], and I think that's what [the voting has] been doing," said Gordon, who at one time was projected to be the next George Brett at third, but has settled into his role as a solid, grind-it-out hitter and developed into a three-time All-Star left fielder. "I think we play with a lot of energy and a lot of fun and people are interested and go out there and vote. It's pretty special. We don't take this for granted and we're happy to be here, and we're going to represent Kansas City the best way we can."
This was the first year that voting was done entirely online, and a total of 620 million votes were cast, far surpassing the record of 391 million votes in 2012.
Surrounding the unheralded but generally respected and locally adored Blue Crew in Cincinnati are a list of studs that more than make up for anything KC's four may lack in the way of gaudy stats. The other starters as selected by fans include first baseman Miguel Cabrera (out with inury) of the Tigers, second baseman Jose Altuve of the Astros, and leading vote getter third baseman Josh Donaldson of the Blue Jays, outfielder Mike Trout of the Angels and designated hitter Nelson Cruz of the Mariners. Donaldson's vote total of 14,090,188 is the most in a single season in MLB history, surpassing Josh Hamilton's 2012 all-time single-season record of 11,073,744 tallies.
That stat is more a reflection of the expanded on-line voting system rather than an indication of Donaldson's MLB popularity being more significant than past All-Stars, but it does reflect a unanimous belief that he has no equals at the hot corner.
NL starting All-Stars as selected by fans are as follows: first baseman Paul Goldschmidt of the D-backs, second baseman Dee Gordon of the Marlins, shortstopJhonny Peralta of the Cardinals, hometown third baseman Todd Frazier of the Reds, Giants catcher Buster Posey and outfielders Bryce Harper (Nationals), Giancarlo Stanton (Marlins) and Matt Holliday (Cardinals). Harper, who tallied 13,864,950 votes, set a new all-time NL single-season voting mark in leading the league in balloting.
Giancarlo Stanton and his league-leading 27 homers is also going to miss the game (broken left hamate bone). Holliday (right quadriceps strain) is also on the DL, but he could return before the All-Star break.
AL Reserves
C Russell Martin (Blue Jays) C Stephen Vogt (Athletics) 1B Albert Pujols (Angels -- will start in place of the injured Cabrera) 1B Prince Fielder (Rangers) 1B Mark Teixeira (Yankees -- replaces injured Cabrera on roster) 2B Jason Kipnis (Indians) SS Jose Iglesias (Tigers) 3B Manny Machado (Orioles) OF J.D. Martinez (Tigers) OF Jose Bautista (Blue Jays) OF Adam Jones (Orioles) UTIL Brock Holt (Red Sox).
AL Pitchers
RHP Sonny Gray (Athletics) RHP Felix Hernandez (Mariners) RHP Chris Archer (Rays) LHP David Price (Tigers) LHP Dallas Keuchel (Astros) LHP Chris Sale (White Sox) RHP Dellin Betances (Yankees) RHP Brad Boxberger (Rays) RHP Kelvin Herrera (Royals) RHP Wade Davis (Royals) RHP Darren O'Day (Orioles) LHP Glen Perkins (Twins) LHP Zach Britton (Orioles).
NL Reserves
C Yadier Molina, Cardinals
C Yasmani Grandal, Dodgers
1B Anthony Rizzo, Cubs
1B Adrian Gonzalez, Dodgers
2B DJ LeMahieu, Rockies
2B Joe Panik, Giants
SS Brandon Crawford, Giants
3B Nolan Arenado, Rockies
3B Kris Bryant, Cubs (replaces injured Stanton on roster)
OF Andrew McCutchen, Pirates (will start in place of the injured Stanton)
OF Joc Pederson, Dodgers
OF Justin Upton, Padres
OF A.J. Pollock, Diamondbacks
NL Pitchers
RHP Max Scherzer, Nationals
RHP Zack Greinke, Dodgers
RHP Gerrit Cole, Pirates
RHP Michael Wacha, Cardinals
RHP Jacob deGrom, Mets
RHP Shelby Miller, Braves
RHP A.J. Burnett, Pirates
LHP Madison Bumgarner, Giants
RHP Trevor Rosenthal, Cardinals
RHP Mark Melancon, Pirates
RHP Jonathan Papelbon, Phillies
RHP Francisco Rodriguez, Brewers
LHP Aroldis Chapman, Reds