This is part of The Shadow League's Women's History Month In Focus series celebrating excellence in sports, entertainment and culture.
Dawn Staley is the embodiment of women's basketball and its incremental rise as a viable and marketable American sport. She has done it all. She's in some way been an integral part of every watershed moment in the women's basketball over the past three decades.
Staley is a three-time Olympian, winning the gold at the 1996 Summer Olympics, the catalyst tournament for the late 90s explosion of women's athletics. After winning two National Player of the Year awards as an All-American point guard for the University of Virginia under legendary coach Debbie Ryan, Staley was a two-time All-Star in the now-defunct American Basketball League and then became one of the stars and influential pioneers of the WNBA.
In 2011, the fans voted Staley one of the Top 15 players in WNBA history and Staley was was elected to the Naismith Memorial Basketball Hall of Fame in 2013.
Her leadership, unselfishness, ball handling skills, relentless pursuit of perfection and groundbreaking style of play made Staley a perfect candidate for coaching. As the story goes, she wasn't interested in coaching and the voices in her cipher were telling her it would be impossible to play in the WNBA and coach D-1 college hoops.
Never one to back down from a challenge, Staley returned to her hometown of Philly and started coaching the Temple Owls near the end of her WNBA career and immediately proved to be a program builder. In six years at Temple, she had a 172-80 overall record with six NCAA tournaments, three regular season conference championships, and four Atlantic 10 Conference titles.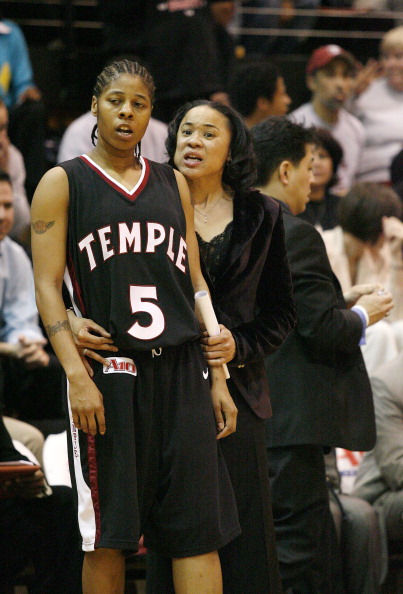 (Photo Credit: Getty Images)
Searching for a greater challenge in a basketball-rich conference, Staley took over a doormat South Carolina program in 2008. She molded it from scratch and impressed her full basketball personality on the squad. Nine years later Staley is making her second Final Four appearance with the Gamecocks, now one of the elite programs in the entire country.
South Carolina held off No. 3 seed Florida State 71-64 in an emotionally-charged Monday night to win the Stockton Regional. Daley has displayed a superior coaching acumen. Her team has maintained a championship swag despite being hit by serious injuries to key players.
Staley has built USC into the pre-eminent program in the Southeastern Conference and with the death of Pat Summitt, Staley moves to the forefront as the iconic, fresh face of women's college basketball. The only SEC national champion in women's hoops history is Tennessee, which won the NCAA title eight times.
Staley is in the right place at the right time. She's a giant who at 45 years of age is still relevant and still legendary in the eyes of anyone familiar with women's basketball. UConn is the impenetrable force and the last line of defense against South Carolina taking over the basketball landscape. In a few years, she could close the gap completely.
"Pat Summitt really transcended women's basketball to bring in the casual male fan, fans of other sports," said former college and WNBA coach Nell Fortner, who coached Staley on the 2000 Olympic team. "People were mesmerized by Pat. Our sport misses that, and we need it. For her to become that would be absolutely outstanding."
While the men's team and Frank Martin are getting most of the press for their long overdue Final Four break through, the women's team has reached this plateau twice in the past three seasons under Stalin's leadership and as she has ascended to an elite college coach, the South Carolina program has become a juggernaut and the only program that has a shot to beat perennial tourney power Stanford on Friday and then dethrone UConn, a team that advanced to the Final Four for the 10th-straight season and has given new meaning to the word invincible as they ride an 111-game win streak.
(Photo Credit: usatoday.com)
Stanford coach Tara VanDerveer is familiar with Staley. The Cardinals beat Staley's Virginia team for the 1992 NCAA title, and then VanDerveer coached Staley on the 1996 Olympic team. Now the pupil will meet the teacher. Staley's already accomplished more than most college coaches ever will in a career and her program is just getting started as far as rubbing elbows with the big girls are concerned.
From her impact on women's basketball culture to what she will accompllish in her recent appointment as head of the US Women's National team Dawn Saley remains a superstar and an evolving part of the fabric of women's sports in America. Another deserving champion to honor during Women's History Month