The Tampa Bay Bucs (4-5) still aren't a very good team, but Jameis Winston is a great player. As he continues to develop and carry Tampa in just his second NFL season, with each game that passes he shows us another remarkable facet of his game and does things on the football field that no other QB in the league can do.
During the third quarter of Sunday's game against the Chicago Bears, Bucs quarterback Jameis Winston made this spectacular 39-yard touchdown pass to Mike Evans that set up the Buccaneers for a touchdown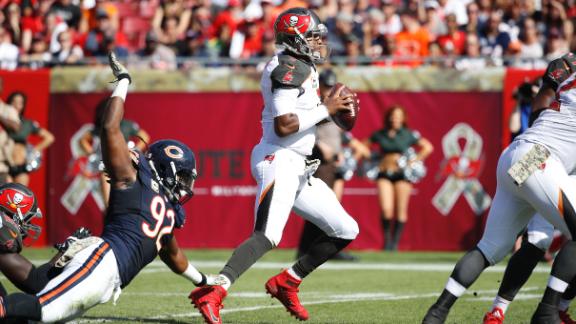 (Photo Credit: ESPN.com)
He looked like Mike Vick with Atlanta and Johnny Manziel in college. It was a play reminiscent of Doug Flutie at his height in the 80s. That's Jameis Winston. He's everything rolled up in one.
People credit Cam Newton with being a force at QB and the supreme African-American signal caller, but Winston is younger, has the same body type, he's more fleet of foot, his arm strength is similar and his accuracy is probably better.
It's a great thing for the NFL to have two Black QB's who are considered elite and near the top of the NFL totem pole. I don't recall having two brothers that good balling at the same time since Warren Moon and Randall Cunningham.
Cam's had a rough season with the Panthers being 3-6 and him getting beat like a pinata by opposing defenses. It's gotten so bad that Cam went back to the "Dab" dance on Sunday after a vintage, rugged TD rumble that gave the Carolina Panthers a 10-0 lead over the Chiefs.
(Photo Credit: usatoday.com)
They still lost 20-17, but it was good to see Cam having fun and trying to do something to remind his team of better days.
Cam said the dance was retired after last season's Super Bowl run, but it's obvious he is trying to recapture some of the magic, enjoyment and success of last season. The Panthers are sinking fast at 3-6, but they still have a fleeting chance to make the playoffs if they can get it together.
I suppose, putting the Dab back in effect is a first step.