If Tim Duncan is fortunate enough to raise his sixth NBA Championship trophy at the end of this playoffs, the old man should be thanking the new Spurs generation for his latest come up. Duncan's first title was achieved as he played second fiddle and learned from another Hall of Famer in David Robinson. He became that extra piece that the Admiral needed to capture his only NBA championship on the way out of the door.
The three championships in between were teams that Duncan led as the No. 1 guy. The unexpected 2014 c'hip signified the emergence of Kawhi Leonard as the franchise's cornerstone player. Duncan was becoming a role player on that squad and is now comfortable in his new complimentary nature. His leadership, integrity and championship pedigree, however, are potent aspects of the Spurs' winning mix.
Moving forward, we will see if Duncan's intangible contributions are also irreplaceable.
One thing is for sure. With Duncan's retirement looming, San Antonio won't have the same Dark Age that the Lakers are facing in the wake of Kobe's retirement. If anyone knows how to keep a machine thriving it is Grep Popovich. His Spurs have been the standard for consistent winning in the NBA for almost two decades now.
On Saturday night against No. 3 seed OKC and their dynamic duo of Russell Westbrook and Kevin Durant, Leonard and free agent acquisition LaMarcus Aldridge showed the world what life after Tim Duncan will look like.
The two balling bandits led San Antonio to a resounding 124-92 romp of OKC in Game 1 of the Western Conference second round playoffs. Leonard posted 25 points, five rebounds and five assists in 22 minutes for San Antonio.
Aldridge had his coming out party of sorts, scoring 38 points. Inspired by Aldridge and some deadly three-point shooting, the Spurs came within eight points of matching their largest postseason victory ever.
Aldridge's best game of the season couldn't have come at a better time. In the postgame interview, Popovich explained that "it takes time for a new player to get adjusted to...learn our system."
When the Spurs signed the 6-11, 260-pound former Portland Trail Blazer to a four-year, $80 million deal in the offseason, people were already placing the Spurs back into the Western Conference Finals and identifying them as the best bet to dethrone the World Champions in the West.
I called him out in January for his less-than-stellar play as he transitioned into the Spurs offense and adjusted his game to fit their team concept. However, Aldridge got more comfortable as the year progressed and he ended the season with averages of 21.2 points per game and 10.1 boards. He had done his job of filling the void at the position that Duncan had so thoroughly dominated in his prime. But as San Antonio steam-rolled through the regular season, Aldridge's true worth would be tested in the playoffs.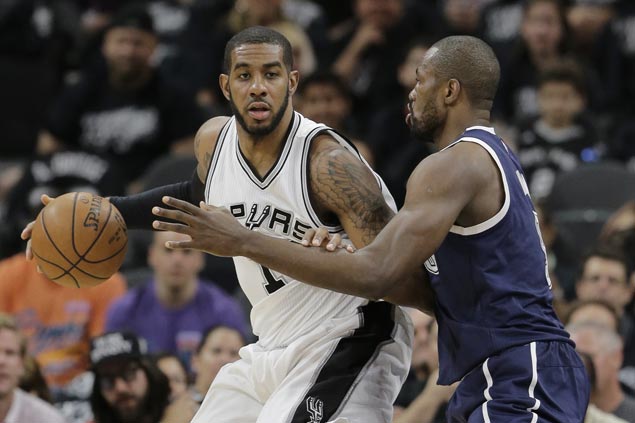 (Photo Credit: spin.com)
After Memphis checked him to 14.5 points a game in the first round, the silent assassin had no choice but to turn up his play and begin to make superstar contributions. The future of the Western Conference is shaping up right before our eyes.
"This is what (San Antonio) was waiting for." said one TNT analyst after the game…for him and Kawhi to spread the offense based on that pick n roll."
While Aldridge begins his ascent to playoff pulverizer, Leonard continues to blossom and already has a finals MVP to his credit. Defensively, everyone knows Leonard is "The LeBron Stopper," so the fact that Westbrook shot 5-18 is not as surprising as the score and the fact that the duo combined for 45 first half points, which was more than the entire explosive OKC team had combined. The Spurs lead reached 43 points and true to form, Pop sat his starters in the fourth quarter to rest them for Game 2 on Monday night.
Duncan basically dismissed the win as one of those games. He's been in enough wars to know not to say anything that will inspire a shaky and emotionally erratic OKC squad at this point. These guys do a lot of talking at the press conferences, but they aren't backing it up on the court.
(Photo Credit: newslocker.com)
What we saw last night was a glimpse into the future of both of these star-studded squads. A new age, two-headed monster with frustrated superstars who still can't quite figure out how to get everyone involved, versus the continuity of an immaculately run Spurs franchise with a team-first philosophy and a changing of the guards happening in almost seamless fashion.