Throughout the remainder of this college football season, The Shadow League's series, The Black College Quarterback, will examine some of the most talented and impactful signal callers of the '80s and '90s. We kick off the series with Part I of our feature story on the University of Oklahoma's Jamelle Holieway.
The 1985 Oklahoma Sooners entered the football season overflowing with much more than hope and optimism. They were on a mission, returning a statuesque, rifle-armed sophomore quarterback that had given the team a new dimension that it had previously lacked: a potent passing attack.
His name was Troy Aikman, and he'd started as a true freshmen the year before while delivering a Big 8 Conference title. National Championship aspirations ran rampant throughout the locker room as the season got underway.
Aikman's main target in the passing game was Keith Jackson, the best tight end in the country. He'd eventually go down in history as one of the best to ever play the position.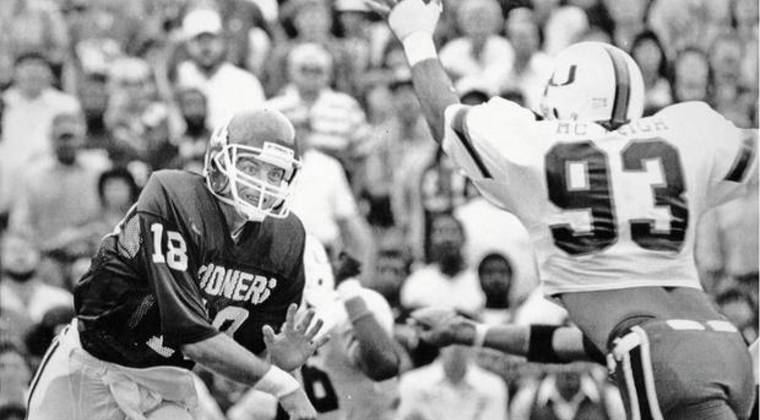 (Troy Aikman at OU, Photo Credit: newsok.com)
On the defensive side of the ball, there was an embarrassment of riches headlined by three All-Americans – defensive end Kevin Murphy, linebacker Brian Bosworth who would win the Butkus Award as the nation's top linebacker, and tackle Tony Casillas, the eventual Lombardi Award winner as the country's premier interior defensive lineman. The overall unit was one of the most punishing and ferocious in all of college football.
After spending three consecutive weeks on the road while defeating Minnesota, Kansas State and Texas, the Sooners returned to the friendly confines of Memorial Stadium on October 19th to play against a rising, emergent power on the landscape, the University of Miami Hurricanes.
The game resonated locally because of the mushrooming animosity between Miami's head coach, Jimmy Johnson, and Oklahoma's head man, Barry Switzer. Switzer had been an assistant coach at the University of Arkansas when Johnson was an All-Southwest Conference defensive lineman there in the early 1960's.
Johnson and Switzer once worked together as assistants at Oklahoma in the early 1970's and Jimmy later coached at in-state rival Oklahoma State, where he was winless in five tries against Switzer's powerhouse Sooner program. That tide would soon shift, as Miami was on its way to becoming one of the most iconic, menacing and controversial programs in college football history.
But on that glorious 1985 fall Saturday in Norman, Oklahoma, Miami walked in with an arrogance and swagger that would help them to later bully all of college ball like Debo did Red in the movie Friday.
The Canes arrived with the country's top-ranked offense in tow, led by quarterback Vinny Testaverde, running backs Alonzo Highsmith and Melvin Bratton, and a gangster wide receiving corps headlined by Michael Irvin and Brian Blades.
With Oklahoma's stingy defense going up against a team averaging close to 40 points per game, something was bound to give.
After Testaverde lofted a beautiful 55-yard pass to a streaking Michael Irvin for the game's first score midway through the first quarter, Aikman engineered an 89-yard drive that was highlighted by his 50-yard pass to Keith Jackson.
Aikman and the OU passing attack was hotter than fish grease early on, with the sophomore stud having completed six of his eight passes for 131 yards in a little more than a quarter of play. But with 9:18 remaining in the half, everything changed in an instant.
As Aikman dropped back to pass, Miami's defensive lineman Jerome Brown tore through the Oklahoma line and violently sacked him, breaking the gifted quarterback's ankle in the process.
At the time, 5-foot-9, 175-pound Sooner Jamelle Holieway was on the sideline doing what he did best. The flashy, charismatic and likeable true freshman from Los Angeles was jabbering away and running his mouth.
"Man, I'm always talking," said Holieway. "I was paying attention to what was going on in the game, but I didn't know that Troy got hurt. That Miami team was incredible and both of our teams were balling!"
Holieway came into the season projected to be the Sooners fourth quarterback on the depth chart. But a string of injuries during summer and early fall practices had bumped him up to second-string.
"After Jerome Brown, who was a beast by the way, sacked Troy, I heard Coach Switzer yell out, 'Jamelle Holieway! You're in!' I was like, 'Huh?'"
"Troy broke his leg," Switzer told him. "You're in."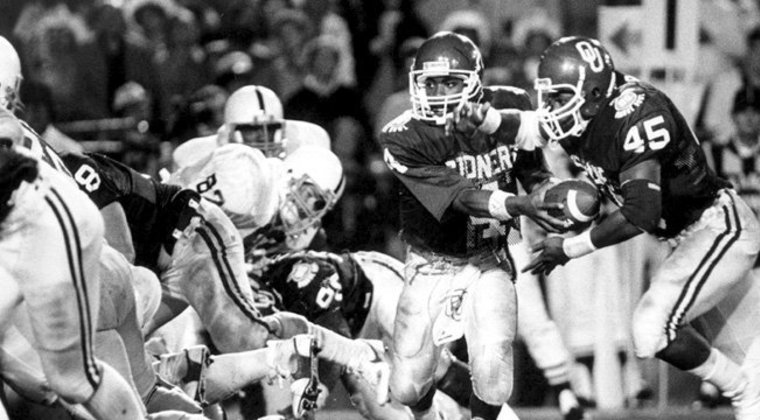 (Jamelle, with his eyes on the defense, executing the Ride-and-Decide, Photo Credit: newsok.com)
As a quarterback, Holieway was the polar opposite of Aikman. He could pass the ball when needed, but his strength was in his lightning-quick feet, assiduously making an inordinate amount of correct split-second decisions, his greasy slickness in the open field while darting through defenses, and overall mastery of operating the rapid-fire action of the wishbone option – an offense that Oklahoma had de-emphasized to take advantage of Aikman's arm.
Against the Sooners' fierce, top-ranked defense during fall practices, Holieway had been successful in marching a team of back-ups up and down the field. And coming from the gang-infested streets of Los Angeles, he was never intimidated or nervous playing football, regardless if a mountain of a defender like Jerome Brown was trying to separate his head from his limbs.
"My best preparation prior to that game was playing against our first-team defense in practice," said Holieway. "And I had some success in moving the ball against them. We had the best defense in the country. So by the time I jogged into the huddle, I couldn't help but be prepared. And Coach Switzer must have had a crystal ball or something because the week before the Miami game was the first time I got some reps running the first-team offense."
In practice that week, when he first sauntered into the huddle with the starters to call a play, senior offensive lineman Eric Pope stared at him intently and said, "Let's roll, freshman. It's your time!"
So as the diminutive, speedy option-savant stepped into the huddle with a beaming smile in the second quarter of the game against the Hurricanes, with his Los Angeles swag and confidence emboldened in front of 75,000 screaming people, many of whom were deflated Sooner fans who thought their National Championship dreams were fractured right along with Aikman's ankle, the first thing Holieway calmly uttered, before calling the first play of his Oklahoma career was, "Alright then. Let's Roll!"
CALIFORNIA LOVE
Holieway's mother, Charlie Mae Evans, worked three jobs to support him when he was growing up in South Central Los Angeles. When her family left the oppressive, racially-charged powder kegs of Longview, Texas and Shreveport, Louisiana a generation before, lured by the sunshine and utopian dream that California offered, South Central was a welcoming community of many African-American homeowners who earned moderately high wages as skilled union workers.
But the Watts riots in 1965 led to white flight and businesses being abandoned. Middle class blacks scattered as well and in the early 1970's, the area's manufacturing base began an abrupt decline. As if the existing racial tensions and economic shifts weren't harmful enough, the city's service sector began supplanting many black workers with immigrants from Central America and Mexico.
The ancillary effects of the abandonment, rising unemployment, escalating crime, violence and poverty, along with the distending narcotics trade, were all critical elements in the augmentation of the Bloods, Crips and overall gang culture.
Amid that backdrop, Charlie Mae tried her best to provide Jamelle with a moral compass and elevated sense of self-esteem that would negate the allure of the gangs.
"She also went to school while she worked at the hospital, the probation office and other odd jobs while trying to support me and my older brother, who died when he was four years old from water on the brain," said Holieway.
Young Jamelle was always active and in the street either riding bikes or playing games like Kick-the-Can. Seeing how hard his mother worked, he also engaged in "Bottle Hustling", along with helping people clean their rides at the local car wash to earn a few dollars.
"I always wanted to surprise my mother with things, so I'd knock on people's doors and ask them if they wanted their bottles, which you could turn in and get money for," said Holieway. "Or I'd go and help people wash their cars so I could gather up enough money to get her some flowers, some type of trinket, or a candy dish that you could sit on the table. My mom was always working, and my uncle lived with us before my mom married my stepfather, so there was always somebody for me to come home to, but I stayed out in the street because there wasn't anything for me to do at home."
His mother taught him, at an early age, the need to be mobile and self-sufficient. She got him a bus pass and taught him how to navigate Los Angeles' public transportation system.
"She showed me how to transfer to different buses and I learned how to get around on my own," said Holieway. "And she'd tell me things like, 'You don't need to go in that area over there, that's a bad area. So you stay away from there and you stay away from strangers.' The only stipulation was that I had to be home by dark. I learned that if I wanted to go different places and do things, I had to have money in my pocket."
One of his favorite adventures was taking the two buses over to The Forum, the home of the Los Angeles Lakers, and sneaking into the games. After one game, while waiting by the ramp in the arena's garage where the players parked their cars, he came face-to-face with one of his idols and the man who would later come to symbolize that flashy substance of the L.A. athletic aesthetic, a rookie from Lansing, Michigan who was fresh off of winning the National Championship at Michigan State University by the name of Earvin "Magic" Johnson.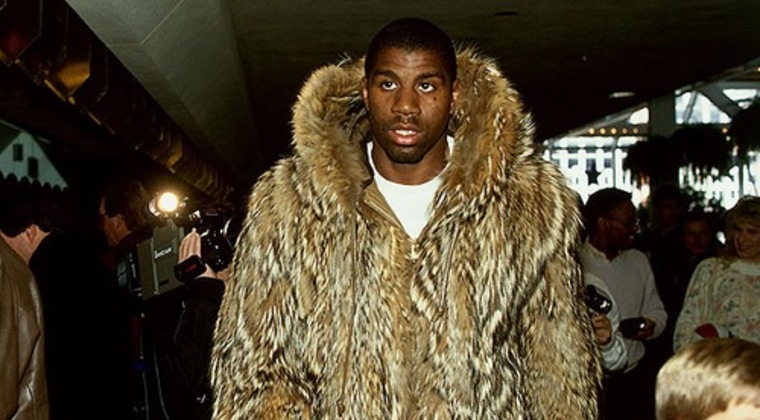 (Magic Johnson - Jamelle's athletic and stylistic role model, Photo Credit: therefinedguy.com)
"Magic stopped to sign some autographs and he put his bag down," said Holieway. "He walked off towards his car and forgot his bag. I scooped it up and ran after him. He was about to pull off in his Mercedes when I knocked on his window and told him that he'd left his bag. He opened the door, I gave it to him, and he said, 'Thanks Kid.' I was mad at myself when he pulled off because I was so excited, I forgot to ask him for his autograph."
"That was one of the highlights of my young life," he continued. "It was kind of like that old Coke commercial with Mean Joe Greene, when he threw the kid his jersey, but Magic didn't give me anything. If I had thought about it, I would've kept that bag and told Magic to come to my house," he says playfully.
Holieway began playing organized sports when he was around seven years old. He excelled early on in football and baseball with a competitiveness, quickness and hand-eye coordination that could not be taught.
"My mother was working so many jobs, but she would come to my games and holler my name," he said. "I would look at her, she would smile, and then she would have to leave to go right back to work. She couldn't stay, but for her to come all the way across town to see me play for five minutes, that meant the world to me."
Holieway began running the option offense as a quarterback at the age of nine. He quickly became known throughout the area's recreation leagues as one of the most exciting and dynamic young players in the city. His teams were perpetually competing for championships as he continuously ran circles and scampered around players who were markedly bigger and stronger.
"I played on some great youth teams and we won a lot," said Holieway. "That opened up a lot of doors for me and I got to travel to places in Los Angeles and California that I normally wouldn't have seen. It helped me realize that there was a much bigger world than South Central L.A."
On the field, his escapability was surreal. Surrounded by defenders, he'd amazingly dance and juke and head fake his way out of certain peril, all the while telling the helpless defenders who lunged at him, "Ha, ha, ya missed me!"
He also practiced those moves within the tight confines of his small home.
"I was pretty nifty, so I used that to my advantage when my mother was chasing after me and trying to whup me if I did something bad," said Holieway. "She hated to chase me around the house, because I'd be giving her stutter-steps and jump backs. That's probably where all my moves first came from."
MORE BOUNCE TO THE OUNCE
Outside of his athleticism, Holieway had a deeper understanding of the strategies and rhythms for attacking defenses than most other kids. His cerebral competencies were a manifestation and byproduct of years of dedicated film study.
"I had some great coaches and mentors that took me under their wing," said Holieway. "They would take me with them to scout other teams, so I'd sit in the stands, study what the other team was doing, then we'd go back to the coaches houses and break the film down to figure out the best way to attack them. I knew what every guy at every position was supposed to be doing on every play."
When he got to Banning High School, he decided to keep playing on his recreation league team in Inglewood as opposed to playing on the school's junior varsity squad.
"My team was so good, we were better than the JV team at my school," said Holieway.
But rumors of his skills soon reached his science teacher at Banning, Chris Ferragamo, who also happened to be their legendary and accomplished varsity football coach. After his rec league season was over, Ferragamo approached Holieway and said, "Everybody's been telling me that you're a really good player and that I need to get you out on the field with us. Son, would you like to come to practice this week and run the scout team for me?"
"Yeah, sure," Holieway replied.
"I figured, Hey, I'm coming out for the varsity next year, so I might as well show them what I can do," said Holieway. "They were preparing to play against Crenshaw High School in the city championship game, and they wanted me to simulate Crenshaw's quarterback, who was really good at running the option."
"I just did what came naturally to me," he continued. "I was just running to the open spot. And I was giving it to them! And it was really exciting to me because all of my buddies on the JV were cheering for me. A week ago I was playing out in the park, and here I am doing my thing against the varsity team that's getting ready to play for the city title!"
During his junior year, Banning was returning its starting quarterback, so Jamelle was relegated to being a backup. He played nickel back on defense and contributed on special teams, but he burned to line up under the center and run the option as a starting high school quarterback.
He soon got his wish when Banning's starter went down with a rib injury. When Holieway took the field, he dazzled with his quickness and wiggle. From that point forward, he never came out of the starting lineup.
When the starter returned from his injury the next week, he was moved to wide receiver. And one of the most highly-rated and exciting productions in Hollywood was off on a two-year run of glowing, rave reviews – The Jamelle Holieway Show.
Ferragamo gave Holieway and his best friend, Leroy Holt, Banning's fullback, the keys to the team film room during the season.
"Coach Ferragamo would set up the projector for us and we would watch a ton of film," said Holieway. "Leroy was an amazing fullback and we'd practice the ride-and-decide every day for hours. That's why we became so potent together when we were running the option. We understood every situation based on how a defense played us. We could communicate and understand everything without having to talk to each other because we worked on it so much."
With Jamelle at the controls, Banning rolled through the regular season and into the Los Angeles Coliseum for the city championship in 1983. Trailing 41-35 with two minutes to go, in front of 35,000 spectators, Banning took control of the ball at their own 5-yard-line. With his astonishing capacity for magically slicing through defenses, he marched them down the field for the tying score and proceeded to score the winning extra-point on a quarterback bootleg.
"That's what catapulted me to some good stuff," said Holieway. "My 12th grade year, I was featured in Street and Smith's Magazine as one of the best high school players in the country. We went 11-0 the next year and I ran for 325 yards in the city championship, but we wound up losing. I rushed for over 1,200 yards and passed for over 1,200 yards as a senior and got what we called the Baby Heisman, the city Player of the Year trophy."
Holieway was a fan of the USC Trojans growing up. His favorite players included Marcus Allen, Ricky Bell, Anthony Davis, Charles White and 'The Juice', O.J. Simpson.
"When we were growing up, playing in the street, we all wanted to be like those great USC tailbacks," said Holieway.
But during his recruitment, USC told him that they didn't want him as a quarterback or running back. They wanted him to play in the defensive secondary or as a wide receiver. Holieway was not interested.
He'd considered many other schools, including Oregon, Nebraska, Notre Dame and Colorado. But a home visit from Oklahoma's coach, Barry Switzer, knocked all of the other competitors out of his recruiting mix.
Switzer's background was unique, and his rapport with African-American players unequaled.
Switzer was the son of a bootlegger who grew up in rural Crossett, Arkansas. He didn't have electricity in his home until high school. The first time he ever had a phone in his residence was in college. As a kid, he would walk out of his home with a .22 pistol and a kerosene lamp to escort his mother and grandmother to the outhouse, protecting them against venomous Copperhead snakes.
Due to his dad's illegal activities, his home was frequently raided and searched, often without a warrant by the state, local and federal authorities. During his senior year of high school, his father was sent to prison after being convicted for the illegal trafficking of alcohol.
"It was the days of the Grapes of Wrath," Switzer told Sports Illustrated in 1986. "Everybody went to California looking for work and didn't find any. So my father came home and had to find a way to feed his family. They were hard times."
In 1959, at the age of 21, he heard a gunshot outside of his home and went out to find that his mother had committed suicide, shooting herself in the head. He picked up his mother's limp body, cradled her in his arms and carried her inside, overwhelmed with shock and grief. In 1972, his father was murdered.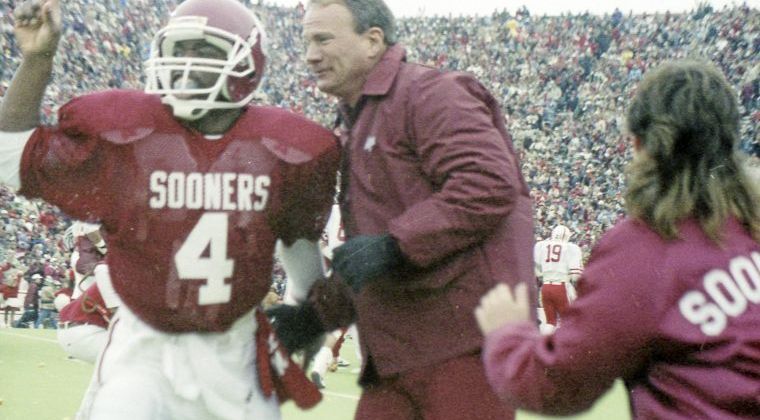 (Jamelle and Coach Switzer, Photo Credit: tulsaworld.com)
"When Coach Switzer came to my house, the living room furniture was for show and only my mom's friends could sit there when they came over," said Holieway. "She let us go in there to talk, but instead of sitting on the couch, Coach Switzer laid down on the floor. We were both on the floor, like two kids playing marbles, and we spoke for hours. He was such a unique, genuine person. I realized then that he was the coach for me. He was known for letting his black players express their individuality, and Oklahoma ran the wishbone, which was the perfect offense for me."
Jamelle and Switzer later went to the airport together for his official on-campus recruiting visit when the season was over. As the kid from Los Angeles sat staring out of the window, dreaming about his future and the places that he would go one day, Switzer walked to the back of the plane and they started talking football.
"He was quizzing me on different situations and scenarios," said Holieway. "He was like, 'If the defense does this, what do you do?' He kept throwing different scenarios at me, but I had been running the option my whole life. I could run that offense in my sleep. There wasn't anything I didn't know about attacking a defense with the option. Before we got off the plane, he told me, 'Son, if you can emulate everything you just told me on the field, you'll be my starting quarterback by mid season of your freshman year."
As they disembarked, Holieway was shocked at what he saw. It was the first time that he'd ever seen snow. After slipping three times while walking, he asked Switzer, "Coach, does it snow like this during the football season?"
"Naw," said Swtizer. "It doesn't snow a lot, and if it does, it's only after football season."
"That was the one and only time that Coach Switzer ever lied to me," said Holieway.
TO BE CONTINUED…
The University of Oklahoma's Jamelle Holieway - Part II