It took Shaq's mom to call off his constant clowning of NBA player Javale McGee
Shaq's war of words with McGee, the Golden State Warriors center, appears to be over because mama said enough is enough.
Shaq's mom called him, told him, 'Stop this silliness. Leave him alone.' So that's the end of the beef," O'Neal was quoted as saying. "You won't be hearing about it from my side anymore. Mama has spoken."
Shaq has a segment, "Shaqtin' a Fool," that focuses on funny dumb plays. McGee, especially in his early years, was a daily target for Shaq's giggles and demeaning rants.
The drama came to a head this past week on Twitter when the two adversaries went at it in a classic 2017 war of words
Said Lucille O'Neal earlier Saturday evening from her Orlando, Florida, home, "It's not funny anymore, seeing the things they're saying to each other. They need to squash this and move on."
"Charles tells Shaquille all the time on the show, 'I'm going to slap you,' but he doesn't mean it," O'Neal's mom said. "My take on it? People are asked to send in videos for Shaqtin' a Fool. This isn't just Shaquille's idea. It's all in fun. Now, I understand how after a while Javale could get tired of it. Look at how many times he's been laughed at."
"Bottom line, the mouth gets us in a lot of trouble. This is now reminding me of young kids on the playground, where one boy gotta have the last word. Sometimes you need to just walk away."
McGee's mom is a single mother who treats him like an 8-year-old baby (as we saw on their reality show Mom's got Game that aired in 2014 on Oprah's OWN Network). I was wondering how she held her tongue so long before giving her input on this situation. She is vocal and highly protective of her son, as she controls all of his business affairs and fancies herself a "momager"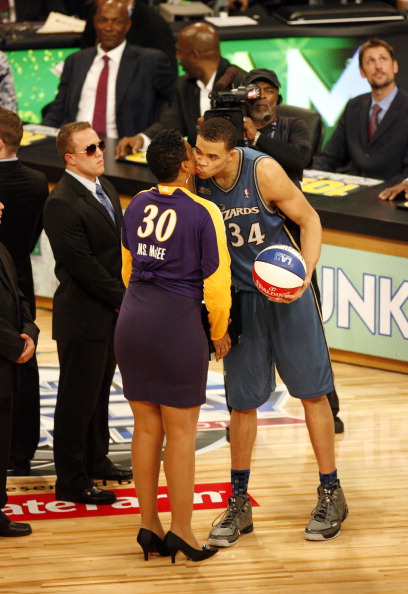 When interviewed by ESPN, Pam was a little less willing to let it ride, saying that she won't be satisfied until Shaq has been fired or at least suspended from his Inside the NBA gig. She says she is going to write to NBA commissioner Adam Silver to request a suspension.
"If you really want to get technical with it, it's bullying," Pamela McGee said from her home in Northern Virginia. "We all have little jokes and stuff. But when you continue to pick on just one person – as his career is resurrecting – there's nothing to it but bullying. And it's unacceptable. You can't allow someone to continue to do this who represents TNT and the NBA.
"He is a representative of TNT and the NBA. Broadcasters are held to a higher authority. He should lose his job."
McGee added that it's not just Javale. She says Shaq is targeting "men of color."
Now this situation is just out of control. How do we have grown ass men getting their moms involved in some public ribbing.
Cyberbullying? Really Pam? She's just making her son look worse in my opinion. He can end this entire ordeal by playing well, not doing stupid, scrub junk on the court like missing dunks.
Shaq will not be suspended or fined for clowning Pam's son. Was it time to end the constant ribbing? Probably, but any man that needs his mama to fight his battles deserves some level of ridicule.
I can't with this situation anymore. Just let the moms shoot a fair one and call it a day.