In the second quarter of last night's featured NBA game between Russell Westbrook's OKC Thunder and Kevin Durant's Golden State Warriors -- a 122-96 loss by OKC -- Westbrook also lost whatever little respect he had left for his former teammate who fled OKC for a "sure thing" when he signed with the two-time Western Conference defending champs this offseason.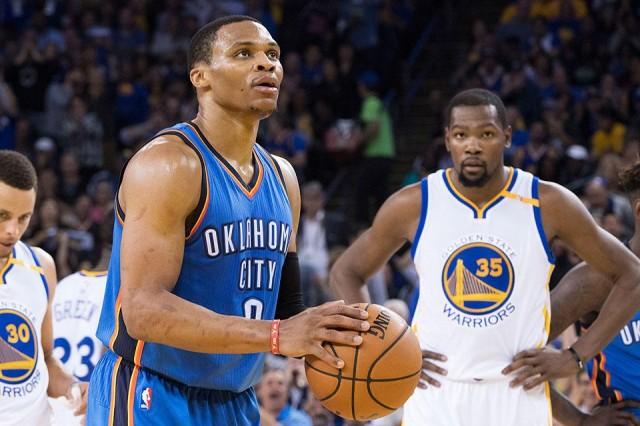 (Photo Credit: GMANetwork.com)
Of all players to mix it up with, Durant picked former teammate and sub Enes Kanter. Of course, the exchange was trending on Twitter for most of the evening, but Westbrook saw it as fugaze.
Even if Kanter started it, KD has to ignore him and stay focused on the championship task at hand. Besides, GSW was up 66-43 at that point.
Kanter said something to KD from the bench, KD responded and the TNT cameras caught them popping junk back and forth before Steven Adams intervened and told Kanter to chill.
KD, who has been more and more vocal and combative since leaving OKC, responded to the incident after the game by disparaging Kanter as a player.
"How many minutes did he play?" KD asked reporters. "Three minutes. I'm trying to focus on whoever's on the court. He's trying to talk to me from the sideline."
The incident didn't move Westbrook, who refused to play into baiting questions about Durant by reporters looking to start a war of words between two former allies.
In fact Westbrook, who was quick to point out his team's identical 4-1 record, wasn't moved at all by Durant's newfound lip service and wouldn't feed into the drama.
"The Warriors do a lot of trash talking now," Westbrook told reporters. "...I guess that's what they do now."
(Photo Credit: inquisitr.com)
We all know that Durant was extra motivated and wanted to beat his former team en route to justifying his move and hopefully winning an NBA c'hip. And we know that when Durant signed with Golden State and said, "It's good to be playing with unselfish players," it was a shot at Westbrook.
But it was a watermelon shot, same as last night's 39-point performance and Durant's postgame comments which followed a lopsided game where Durant and his clearly superior team laughed and smiled and chucked treys and totally toyed with the undermanned Thunder, who were inhibited by the emotion of the night, the growing bad blood (media inspired as it may) between the former Dynamic Duo, a 4-of-15 shooting night by their one-man-band and foul trouble plaguing his new sidekick, Adams.
"He's a huge part of our team," Westbrook said of Adams. "He impacts us on both ends of the floor."
Reporters tried their best to egg Westbrook into saying something that can be misconstrued as a retaliation against Durant. One asked why he didn't speak to Durant before the game.
Westbrook fired back, "When I get on the court, I don't talk to anybody but my teammates."
To Westbrook's credit, he has continued to take the high road and undoubtedly looks forward to the next contest against Golden State on January 18th, when he's sure to play twice as good.
It was a tough spot for Westbrook, who carries OKC on his back and is averaging 34.2 points, 9.6 boards and 10 dimes a game this season. He was due to have a down game (20 points), and he probably was way too excited on the court and never got into a groove.
(Photo Credit: csnbayarea.com)
But nobody's panicking in Oklahoma City and Durant has a long road to haul this season with Golden State. Klay Thompson doesn't look too happy, the defense is suspect and we are only five games into the season, so Steve Kerr should be making sure that no one mouths off too much.
Who knew that all KD needed to channel his inner Rasheed Wallace was a Super Team to have his back? This new personality trait could become a great thing for KD, who has been criticized for not being "nasty" enough in the past. A silent assassin of sorts.
Though he kept quiet, Westbrook is like an elephant. He never forgets.
By the time these two meet again, the stakes will be higher, the drama should be cranked up and if Draymond Green keeps rubbing off on Durant, I'm sure Westbrook will have much more to say with his game and his jaws.
I can't wait.