Walking in the footsteps of an immortal giant is an almost impossible task and John Thompson III did it for 13 years at Georgetown, attempting to continue the unsustainable dominance that his mythical father established while building Georgetown and the Big East conference into collegiate powerhouses in the 80s and early 90s.
Thompson's 278-151 record with eight NCAA tournament appearances during his tenure, wasn't good enough for the Georgetown basketball community who became spoiled and entitled by the successes of Big John and that Golden Era that will be as elusive for Georgetown as the carrot at the end of the stick, no matter who takes over.
"It is with profound regret and deep appreciation that I informed John Thompson III this morning that the university will no longer be retaining his services as our head men's basketball coach," university president John J. DeGioia said in a statement.
"For 13 years, he has been one of the elite coaches in college basketball. His performance as a coach has been exceptional, and he has served our community with remarkable distinction and integrity, sustaining our commitment to the academic performance of our students and providing them with the very best preparation for their lives beyond the Hilltop."
Thompson knew this day was coming after failing to make the NCAA's in three of the past four seasons and finishing this disappointing campaign with a 14-18 record, including 5-13 in Big East play. That kind of losing doesn't sit well at any powerhouse school, especially Georgetown.
(Photo Credit: Getty Images)
The Shadow League foreshadowed this moment in a March 1 article entitle, Has The Thompson Georgetown Empire Finally Fallen?
There is a bright side to Thompson's unceremonious exit from Georgetown. His legacy is still one to be very proud of and is unprecedented in hoops history.
"The fact that The Thompson's are African-American and were able to share such a powerful legacy together at a predominantly white, prestigious and private university makes them pioneers and a classic American Dream story.
The younger Thompson never won a National Championship like his father and after a run to the Final Four in 2007, Thompson III has watched his overrated teams implode in the NCAA Tournament. It has been a decade since Georgetown made the Sweet 16.
Being the son of a king holds major weight, but eventually the people will want you out if you (aren't cutting the mustard)."
"I am honored to have been the head coach at Georgetown University for the past 13 years, where I had the privilege of coaching and mentoring outstanding student-athletes," Thompson said in a release provided by his attorney, David Falk. "I am proud of what my players have accomplished on the court and how they are thriving since leaving Georgetown."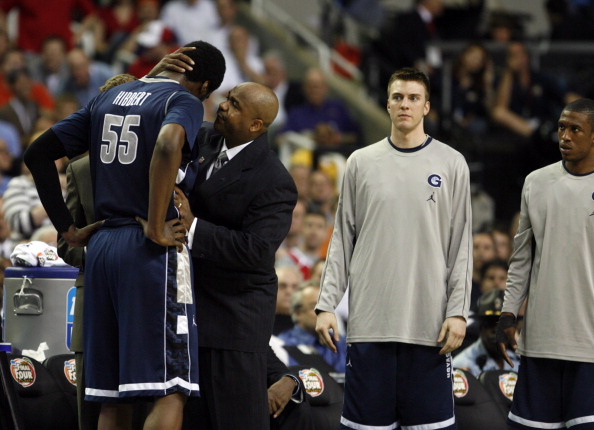 Thompson III actually didn't drive the Georgetown basketball program into the toilet. It is still an academically prestigious and coveted basketball destination and much of that success can be attributed to the influence and marketability of the Thompson brand. He just didn't successfully adjust with the changing basketball landscape and that can happen to the best of them.
All great things must come to an end.
"Our tradition of excellence as a university will forever be inextricably linked with John and his family," DeGioia said. "We are committed to taking the necessary steps to strengthen our program and maintaining the highest levels of academic integrity and national competitiveness."