Everyone in the known universe was expecting the Golden State Warriors to handle business on Wednesday night and make NBA regular season history.
After all, Steph Curry and his team have steam-rolled the NBA all season and it didn't take a prediction from Miss Cleo to foresee the 124-105 lambasting that the Grizzlies received.
On the night when Kobe Bryant said farewell to the NBA and dropped a vintage 60 with an array of jump shots, drives and fadeaways -- flexing the unrivaled barrage of offensive weapons that have made him a Top 3 all-time scorer in a league that has had more hoop assassins over the years than the old KGB had hitmen -- Golden State won its 73rd game of the season, eclipsing the previous record of 72 set by the 1995-96 Chicago Bulls led by "His Airness.
(Photo Credit: NBATV.com)
The Bulls, however, were deeper into their dynasty when they set the record en route to a fourth NBA title under the coaching of Zen Master Phil Jackson. Different squad. Different era. Different state. But the lineage and history is all intertwined.
Golden State's coach Steve Kerr won three NBA championships as a guard on Jackson's Bulls Dynasty teams. Kerr has obviously learned a thing or two about building team chemistry and getting the most out of his players. Kerr's resilience after missing the first 43 games of this season following back surgery, is an example of how the Warriors hold each other down as a team.
In Kerr's absence, Luke Walton took over and the team went 39-4 out of the gate. Walton and Co. handed the closer Kerr the baton with an insurmountable lead and the NBA's newest top sideline stalker is navigating the team through the most important time of the season.
Kerr has taken the philosophies he learned with the Bulls and created a dynasty of his own with Steph Curry, who will probably win a consecutive MVP award. They don't run a Triangle offense, but the mental connection between the coach and team and the game's best player, is similar to how one is executed. Chef led the league in scoring, steals, was 10th in assists and broke his own record for most 3-pointers in a season. He scored 46 points in his team's historic performance. His team shot 52.9 percent from the floor, and was typically lights out from three-point range at 42.6 percent.
Kerr has also learned how to balance the humility and intensity needed in a championship coach. People often credit Mark Jackson for constructing the juggernaut that Kerr finessed and molded into a championship caliber team. As basketball minds, the two coaches are comparable. After two seasons of watching Kerr do his thing, it's obvious that his "approach" is what separated him from Jackson as far as ownership and the players were concerned.
"I'm shocked we are where we are just because of how difficult it is," Kerr said after the game. "More than anything, I'm proud of our guys for laying it all out there, all season long, for putting themselves out there and trying to achieve something that has never been done before…. Something that is truly great."
For Golden State, it's all about the rings now.
As Jalen Rose said on ESPN before the game, even if the Warriors don't close the deal and win another c'hip, breaking the single-season wins record is still a monumental accomplishment that should be lauded. Sounds good, but Warrior players such as Draymond Green expressed a different assessment of the situation in interviews.
"If we don't take care of business in the playoffs, what does the (wins) record really mean?" Green asked.
Golden State was 38-2 at home this season and the first home loss didn't come until the 76th game. They broke the record for fastest team to secure a playoff berth when it won its Feb. 27 game against Oklahoma City and they became the first team in NBA history to avoid losing back-to-back games.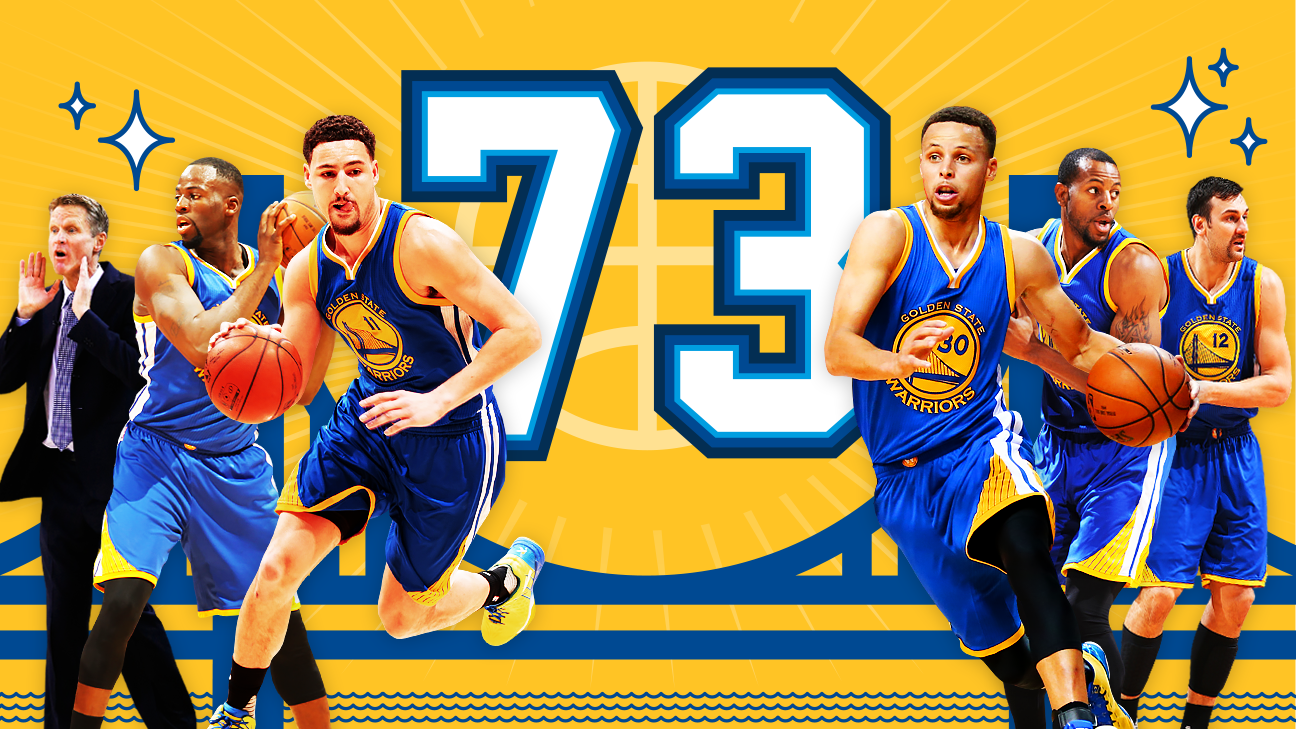 (Photo Credit: telezkope.com)
Despite Golden State's incomparable regular season success, this rising Warrior's pre-dynasty can't compare to that Bulls Dynasty until Golden State runs off at least three in a row. The three-peat is the standard for a "dynastic" squad and the Warriors have yet to grab their second shiny ball.
Like the 73rd win on Wednesday night, it's sort of inevitable that Golden State will go back-to-back, but like every classic NBA journey, documenting and immersing yourself in the magnificence is what it's all about. Being able to say I remember when and speaking on the moments with confidence, joy and nostalgic reflection.