Just as Dub Nation's prize acquisition KD goes down for minute with a knee injury, weakening the Warriors' vaunted offensive attack, the Cavs acquire former Golden State Warriors center Andrew Bogut to provide some more beef inside during the playoffs and replace the loss of All-Star Kevin Love, who is still weeks away from returning to the court.
Some people would say the Cavs moved ahead of Golden State with the recent acquisitions of Deron Williams and Bogut. With KD nursing a bum knee, those pickups loomed even larger in this personnel chess match between King James and Dub Nation's front office.
However, Bogut didn't make it through one minute of his debut with the Cavaliers before breaking his left leg in the second quarter on Monday and had to be assisted off the floor to Cleveland's locker room.
The 32-year-old Bogut suffered the injury at the 11:38 mark of the second quarter of the Cavaliers' 106-98 loss to Miami, just moments after taking the floor for the first time in his No. 6 jersey.
The 7-footer could not put any weight on his leg as he was helped by new teammates James Jones and Tristan Thompson, who moments earlier had cheered along with fans in Quicken Loans Arena when Bogut checked in for the first time.
The Cavs said initial X-rays revealed a fractured left tibia.
Just as quickly as Cleveland gained a playoff advantage, they lost it. James was obviously not happy about what transpired. Cleveland's still going to have to find some rebounding and toughness from somewhere.
Bogut just signed with the Cavs last week for $385,000 and he shunned larger contracts and more PT to try and grab another championship.
This has been an NBA season of musical chairs injuries, especially for the players that are over 6-foot-9. Love and Durant are both 6-10 at least and while 7-foot phenom Joel Embiid's Philly team isn't exactly contender material, he was having a tremendous season and getting right in Philly before his knee took a left turn on him.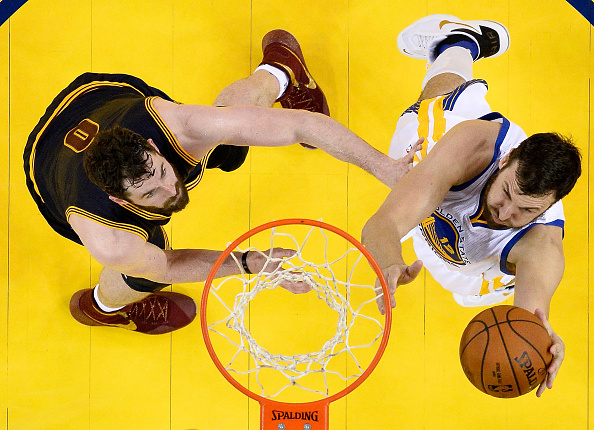 The saga of big men and their shaky feet and knees continues. It's the trade-off a team must endure when dealing with taller players who tend to be a tad more fragile in their genetic makeup these days than in the past.
As far as the playoffs go, Love and KD are expected to return. We just don't know how effective they will be upon that return. Bogut's Cleveland experience didn't last long. He's truly given new meaning to the term one-and-done.