The first Andre Ward and Sergey Kovalev battle was everything a pugilist purist hoped for. Two master craftsman trying to impose their will and contrasting technical approaches upon the other. Sergey controlled the earlier rounds and looked as if his power and strength would be too much for the undefeated Ward even dropping "SOG" on his butt, but the crafty Olympic champion slowly jabbed and juked his way back into the fight to steal a decision that many people dispute.
"Unfortunately, there's perception and there's reality," Ward said at a press conference on Monday at LeParker Meridien in NYC. "Perception is every one thing that's written, every opinion but as you grow and learn this business, it's not about perception. Nobody can point to a fight where I turned. Not one point. That's not in my track record. So, I don't mind the perception. I don't care about Instagram. This is chess, not checkers. You can make all the rules you want to make, but it's about the checkmate. That's when the game is over.
Ward, The Unified Light Heavyweight World Champion (31-0, 15 KOs) and former Unified Light Heavyweight World Champion "Krusher" Kovalev (30-1-1, 26 KOs) formally addressed the media on their highly-anticipated rematch on Saturday, June 17 at the Mandalay Bay Events Center in Las Vegas. The championship event will be live on HBO Pay-Per-View beginning at 9:00 p.m. ET.
Ward disagrees with any perception other than one saying that he earned his victory over Kovalev and did it his way. He's already broken the myth by defeating Kovalev and surviving his notorious "death blows" for 12 rounds.
"They have to understand, there's nothing scary about this man," Ward insisted. "You realize we just fought 12 rounds four months ago? Everyone wants to highlight the knockdown, that's probably one of the most beautiful moments of my career. And did you guys see the other 10 rounds? Nobody's talking about that. But that's what makes us who we are. It's hard concrete down there, we don't want to fall. We've got another drive, we've got another gear we've got to tap into when we hit adversity and hit the cannons. You guys saw that, in the biggest moment of my career."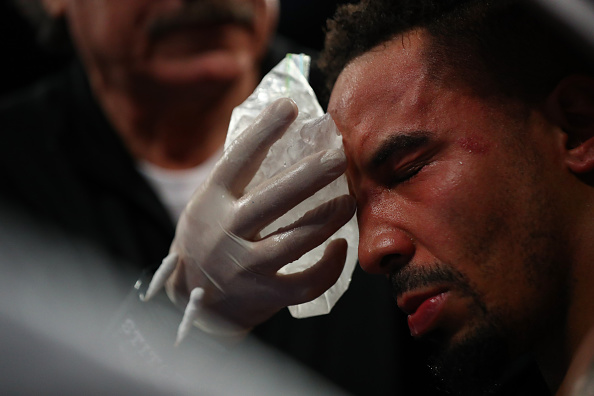 (Photo Credit: Getty Images)
It was indeed Ward's moment of truth, but at the same time, he says it was one moment laying the foundation for an even better life after boxing.
"I want to thank everybody for coming out today – the media, obviously, HBO, Peter Nelson and their whole team, these guys work tirelessly to get these kinds of things done. I appreciate my team, James Prince, Josh Dubin, Roc Nation and everyone at Roc Nation, JAY Z, Juan and Desiree Perez, Michael Yormark. It's important to have a good team. We talk a lot about fighting, we talk all about matchups, but when we talk about support, it's frowned upon. When we see fighters 10, 15, 20 years from now shuffling in a room, nothing to show what they fought for, that's okay. By the grace of God and by way of my team, that's not going to happen to me.
My team is working on life after boxing. Educating me on the ins and outs. A lot of people talk about money, but they don't talk about the upside. They're not talking about the personal sponsorships for the fight, and your obligations for the sponsorship. They're not talking about the television rights and foreign rights, the merchandise. 'Be tough, keep focus, destroy the fight'. I'm not with that man. I want the whole thing, I want to understand everything. The fight is not the end."
While Ward talks about life after boxing, Kovalev is obsessed with avenging his controversial first career loss."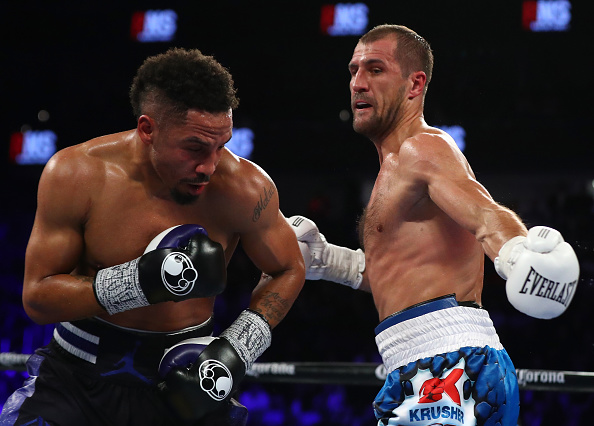 (Photo Credit: Getty Images)
"Hello everyone. I am thankful the fight will take place on June 17," Krusher said while implying that Ward might back out at the last minute. "Well, will take place on paper for now. I'm appreciative of my team and Team Ward that this fight will actually happen. I want to apologize to my fans for my performance the last time but we're going to get this squared either way. We're going to see who is the best fighter. I'm very excited for June 17. The only thing I hope is that a week or two before the fight, Andre Ward does not get injured and he has enough balls to come out and fight me on June 17."
Tough talk from two pound-for-pound titans in the game. You don't get rematches like this every day.